May 11, 2013
Nightmare in Silver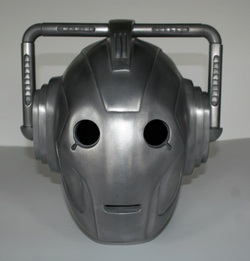 You are looking at what is to come!

Outside of orders, I have been working diligently on the newest incarnation of the Cybermen, from Doctor Who.

Since learning the ropes of armor sculpting and casting, for Loki, I have been experimenting with random processes, and finally push myself into full body armor costumes again. A sort of return to my roots, except this time I am making more than just the soft components for myself.

---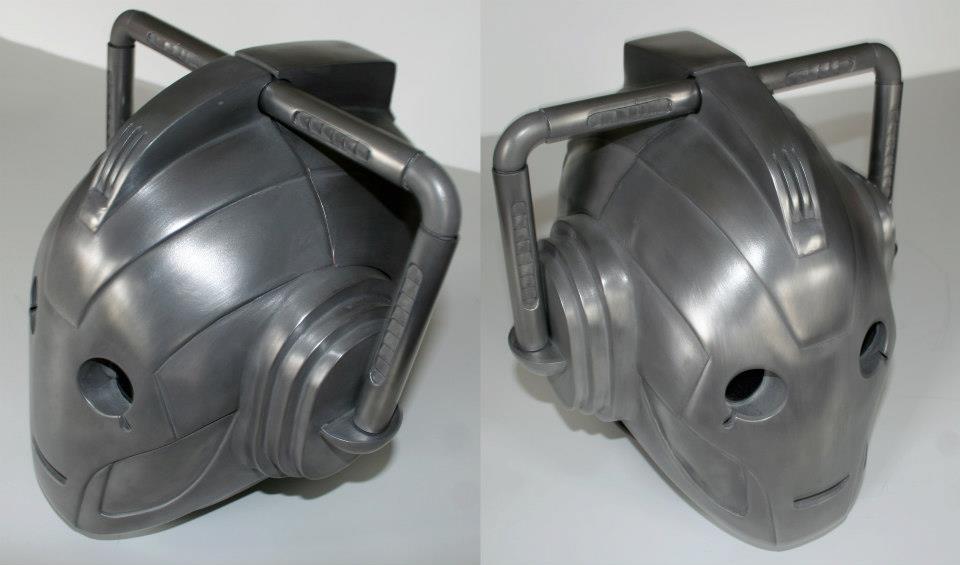 September 8, 2012
Avengers King Loki costume added












The "would-be" King Loki costume from Avengers has been added to the Avengers Loki gallery.

---
August 14, 2012
Easy payment buttons on Loki products

I've gotten many emails for pricing on Loki helmets and scepters, so hopefully this method will help cut down the amount of mail I wade through each day.
Please note that the $20 shipping on these items are for US only. If you are outside of the US, please contact me for shipping costs.
Remember that the scepter comes in 2 varieties, with the lower priced option being a non-battery version that does not light up.
If there are any questions, please feel free to email me.


July 31, 2012
Loki Avengers helmets now available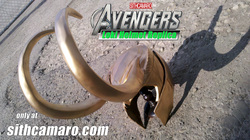 In addition to Loki scepters, you can now order Loki helmets!
Each helmet joins in 2 parts, as in the film, and are joined by strong rare earth magnets.
If interested, please email me for details.


---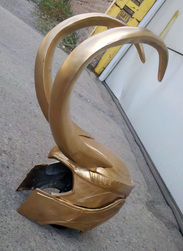 July 7, 2012
Updates to Loki scepters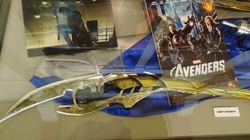 Scepter orders are now being filled with an updated sculpt, based off of more recent images of the prop on exhibition. In addition the paint quality has also been kicked up a notch, to better match the prop. To the left is an image of one of the screen used props, below is some of my latest work.
So order your Loki scepter today!
(still working on making the horns on that helmet)



---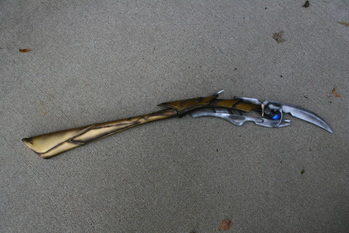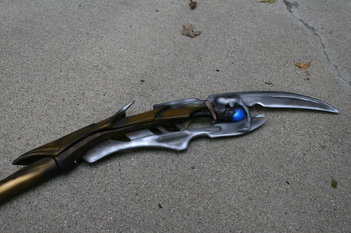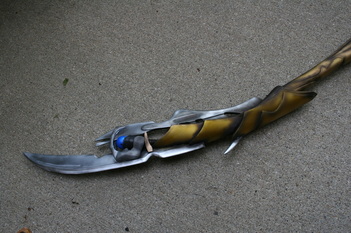 June 20, 2012
New images added to Loki gallery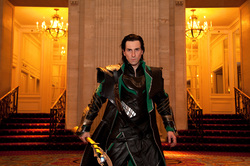 Added images from a recent photo shoot to the
Avengers Loki gallery
.
Helmets are also slowly coming along in between scepter orders. Still need to begin the sculpting process on the horns.
---
June 14, 2012
Avengers Loki helmet, nearing completion.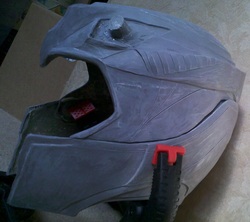 The remaining parts for the helmet have been sculpted, molded & now cast. Just like the helmet from the movie Thor, this one comes in 2 parts, and will be held by magnets.
The first one was just pulled today and trimmed. Now I must go about sculpting the horns. Hopefully this will be ready to order anywhere from 1-2 weeks from now.

Meanwhile, scepter orders are still being taken.
---
June 1, 2012
Avengers Loki scepter - NOW AVAILABLE FOR ORDER!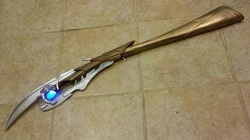 The Loki scepter is now complete, and I am ready to take your orders.
Remember, my hands can only make so many, so these are first come, first served. Thanos is just not handing these out by the fistful!
A static scepter is $350, while the electronic is $400 (plus shipping).
The static is identical to the electronic in every way but the LED lit gem. It does however glow brilliant blue in UV light.

All payments can be made to sith_camaro@yahoo.com

More photos to follow.
---
May 28, 2012
Loki scepter nearly ready for order!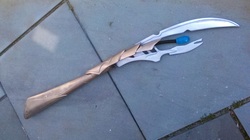 Scepters should be ready for order later this week. Please email me for interest and pricing.
---
May 13, 2012
Progress on Avengers Loki helmet & scepter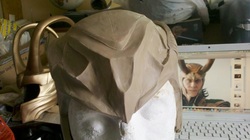 Things are moving along steadily on the build for these 2 pieces (these are the only 2 items I will be offering from this costume). The stubby version of the scepter will potentially be available in about 2 weeks, with the helmet following shortly after.

Here are current progress images of each in progress.

---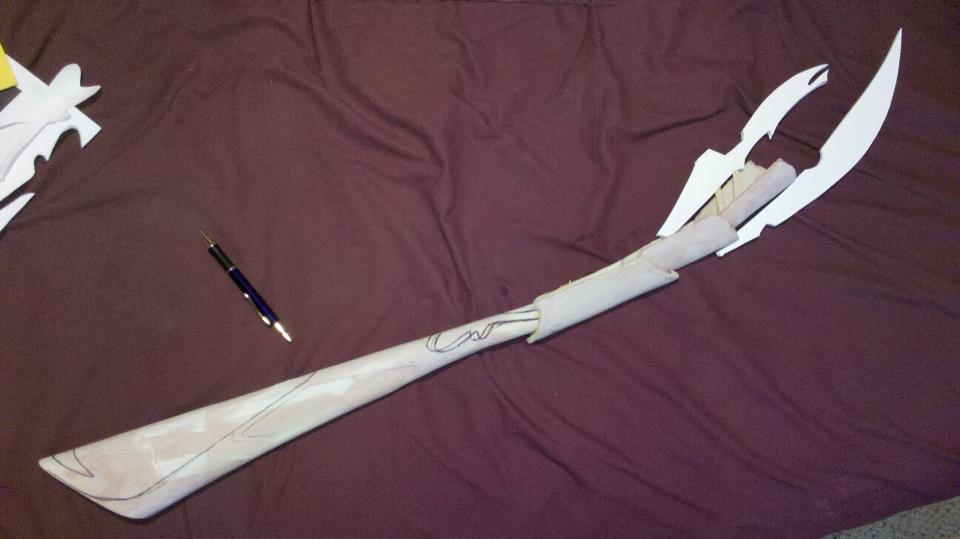 April 28, 2012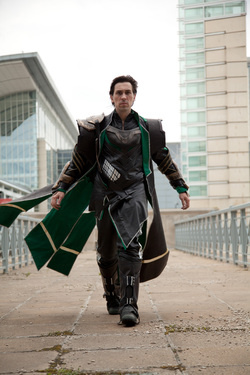 Avengers Loki
Just in time for the opening of Marvel's Avengers, I have completed the new costume for Loki!
Now comes the process of creating the fully armored version. If anyone is looking for Avengers styled Loki helmets, keep an eye out, for they shall be soon available.
View the gallery
---
December 13, 2011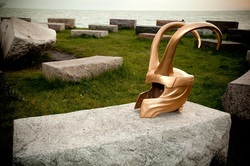 Loki helmets for sale
Although not currently listed on the site, I am selling Loki helmets from the movie Thor.
Each helmet is cast in fiberglass and is molded in 2 pieces, as the original. They are one size fits most and have magnetic closures.
Please email me for order inquiries.

---
November 3, 2011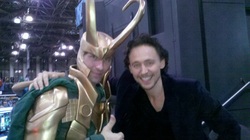 Loki is here!
After a brief vacation from making myself anything new, I have decided to quickly throw together a replica of the Loki costume from Marvel's Thor.
View the gallery
---
February 1, 2011
LXTV

As promised, here is the direct link to the video mentioned in my previous post. Enjoy.

December 29, 2010
Year at a glance, looking ahead and Sithcamaro TV info

As 2010 comes to a close, I would like to thank everyone for their continued support. Throughout the year, buyers like yourself have thrived for the ultimate in reproductions.
Again, thank you all. 2011 should continue to be another excellent year.


And now for some special news to help ring in the new year...


You are all welcome to an intimate look inside my little world of creations! On January 15th you will be able to tune into your local NBC affiliate to catch me as part of a special feature on costuming!
Here is the precise info from the producers:


"The airdate is final. It's Jan. 15th after SNL on NBC. The segment will also air in other major markets like LA, NY, Dallas, Miami, San Diego, Conneticut, Bay Area, Philadelphia ( I think I named them all.) The exact name of the show is "LX.TV 1st Look." And again, it airs after SNL in all the other markets as well.

The segment will also air on Sunday only in the Chicago area. Check the local listings to see when it will air on Sunday. Usually, it airs around 11:30am and midnight on Sunday.
There will also be a link for others to watch after it airs on www.lxtv.com."


So there you have it. Please be sure to check it out and enjoy. For those outside of the market, as noted, it will be on their site shortly after.

---

November 10, 2010

Finally getting around to adding a payment link for Camaro jackets. Get them while you can with this special introductory price!


Click the pic to get there.

---

October 18, 2010

For those who have been asking...

Many of you have been asking about the new waistcoat fabric that I found a couple of months ago. I came across this stuff at another place today, and it reminded me of you all.

At this point, I am still undecided as to what I will do with it. There "new changes" fail to interest me, so I have little interest in working on these updates of theirs, plus I've got too much non-Jack items on my plate that take up much of my time. So if I do not sell full waistcoats, I may possibly sell the fabric itself. Or perhaps I'll just let everyone know where they can find it themselves, and let you all at it yourselves. I've not yet decided.
So stay tuned for more info.

---

October 11, 2010

Custom Chevy Camaro jackets




---

Chevy Camaro leather jackets are now here!
Little by little, continue to I blend the lines between costume and everyday clothing, creating one of a kind wearable works of art.
Each jacket can be customized any way you can possibly think: base leather color, trim, lettering, even the padded component colors. They aren't even limited to just Camaro! These can reflect most any car or motorcycle, Mustang, Suzuki, Challenger, ect.

And as all costumes, each jacket is custom tailored for the buyer. Jacket can remain standard length, or made longer.

You dream it, I create it! What better way to drive away than in a matching jacket?

Please email me for prices and details.

September 23, 2010
Now offering custom leather race jackets


More info coming shortly, but soon you can order any style racing jacket. These jackets will look very similar to the Tony Stark design, some totally different, while some will be custom designed with your own ideas in mind.


September 9, 2010
Tony Stark Formula One Race Suit


New gallery added today, for my all leather Monaco racing suit from Iron Man 2!


---

August 20, 2010
All new Joker gallery added


With the help of a local photographer, I was able to get my dream shoot, down on the streets of Chicago.


---

April 6, 2010
Mad Hatter costume pieces now up


You've been waiting for it, and now it is here! The majority of the pieces that comprise the new Tim Burton Mad Hatter can now be purchased directly. (see buttons above)
I have also been having a few email issues. If you are having difficulty contacting me, please try my gmail account at sithcamaro@gmail.com

March 10, 2010
All new Mad Hatter costume gallery added!


By now, most of you should have already seen Tim Burton's Alice in Wonderland, and as expected, my costume has been perfected in time.
Most of the pieces for this costume will be available right here, by week's end. You can either check back then, or email me for details. Hats, coats, ties, patches, vests, pants, ect!


---

April 18, 2009
New Jack Sparrow "tooled' baldric now available and new Star Wars items


Now available direct is my all new version of the Pirates 2 & 3 Jack Sparrow baldric. Unlike my original version, this baldric featured a dighly detailed "tooled" facing. In addition, this new baldric also offers the proper screws as well as the same identical buckle that you've all known and loved. Everything is now 100% screen accurate! This baldric is available in 2 price ranges. Please email for detials.


Also available soon will be Han Solo halster belts. These will be constructed of leather, machined aluminum buckles and made to fit Master Replica blasters. Pictures to follow shortly.

---

December 13, 2008
Jack Sparrow Compass Pocket Watch


Just like my limited run of half scale Sweeney razor keychain letter openers, I have now created another totally unique item.



I present to you, the Jack Sparrow half scale compass POCKET WATCH!



---

December 6, 2008
More items added for direct purchase


Now that some of the buzz surrounding a few of my items has calmed down, I can now begin taking direct orders! Before, I would either sell them via ebay, or direct through email. This was a means of better regulating my flow, so customers would not be forced to wait long after ordering. But much of the movie & Halloween hype has gone down now, and I am ready to take orders from all!
Some of the orders now up, are Jack Sparrow frock coats, tircorns, shirts.. even Elizabeth & Will Turner frock coats. Click the buttons above, for more info.


June 20, 2008
Captain Jack returns to Youtube!


Costumes FOR SALE

Click here to enter the Sithcamaro store.

---